After the stand up bar we had questions about pachinko. Was it the devil as we had been led to believe?
The first thing you need to know is if you've never heard of pachinko before…… Yes you have. If you've ever watched The Price Is Right and a game called Plinko….it's like that. You send something down a board that is covered in nails or things for it to hit and bounce on. In Japan there's are huge huge parlours of these games like casinos in North America because you can win money…..sort of.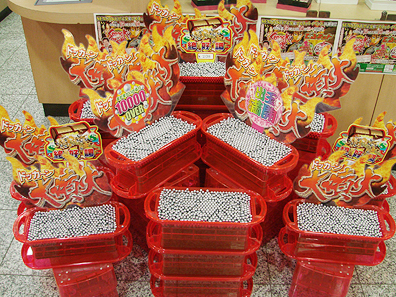 The second thing is, gambling in Japan is illegal. So wait….that whole winning money thing? Right so what you do is buy these little ball bearings, as many as you'd like. Then you put the ball bearings in the machine and they bounce around. If you win you get MORE ball bearings. When you're done you trade in the ball bearings for a coloured bar. Maybe a red one is worth 500 bearings. So fine. And then, completely coincidentally, right next door to the pachinko parlour is a store that will buy that pretty coloured bar from you for cash! Neat!
At any rate we wanted to know what the draw was and we walked passed a parlour so Kevin said open the door. A few moments earlier he had inoculated is by saying smoking was legal in them and it was loud. Once the door opened the demon was let loose. The sound was ear piercing. It was far higher than any human should be able to tolerate. The fact that the glad doors kept 85% of it inside is a feat of engineering. And the smoke….. The smell of rank cigarettes made our eyes water and gave us what surely was instant COPD. We walked, quickly, from one door to the adjacent door pausing only long enough to see a lady with something like 40 pounds (really!) of ball bearings behind her. She's was going to get the whole rainbow of coloured bars.
Next up Kevin offered to take us to a tiny (no, really) whiskey bar for a Japanese whiskey tasting. We were game, so we went to this tiny place where we all had to duck to get in the door – even Holly! We were served 3 tastings of excellent Japanese whiskey – who knew! After that, when we were well relaxed, we went to another stand up bar where the staff was allowed to drink as much beer as they wanted. The food was simple battered fried food – lotus, quail eggs and something with pork – not too sure about the last one because by then we had had another beer……
The final place was a larger stand up bar. This time we had a potato liquor and a citrus flavoured drink that was a bit like cleaning products with alcohol. The food however, was amazing. It is too bad we would never find this place again because the food was so good. The two guys behind the bar really took pride in the food they were making – they prepared and plated everything with such attention to detail it was almost a shame to eat it. I also couldn't tell you what it was, but it was good, and it wasn't just the Mr. Clean flavoured drink talking.